Thinking ahead,
TEDELTA: Capping Solutions
moving forward
Human Quality
serving technology
Experience
Design quality
Accuracy
Quality manufacturing processes, assembly and after sales
Quality in the selection of materials
Lifecycle - Maintenance
We are certified in the corresponding ISO
Quality Certificates
No unattanaible goal for Tedelta
- Working together is success -
We manufacture exclusevely cappers
We are the agent or distributor destination
We offer maintenance services
Our machines, our labor
Screw type capping machines | Pilfer-proof Capping machines | Decapping Machines | Top pressure induction sealing machines | Capping Turrets | Special Design Capping machines | Other capping machines | Cap distributor-Sorter | Pneumatic Cap Feeder | Cap Supply and distribution systems.
(R&D) Research and Development: Capping Technologies
Continued research and development of capping systems, upgrading our own closure heads with the most advance technology, comparable to any world "leader". More than 40 years of experience, gives us total control of our design and manufacturing of our equipment; Cappers, turrets and capping heads makes us the one and only Spaniard capper manufacturer. Our commitment in capping technology, allows us to offer tailor made capping Turrets to filler equipment manufacturers and complete capping systems to the end user.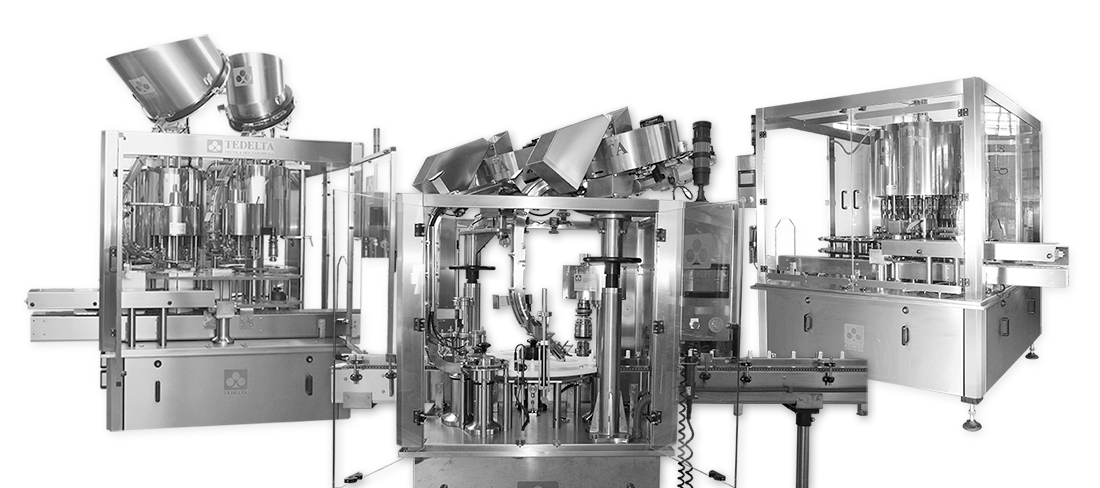 Capping and packaging technology
CAPPING IS BOTH EFFICIENT AND ESSENTIAL IN TODAY'S SOCIETY
How do we work

…

There is only one secret to reach the best results in Tedelta. Work with the most demanding quality controls: Quality in design and development of our systems. Quality in the selection of our row materials and suppliers. Quality in manufacturing processes, assembly and after sale.
Exhibitions and Events
TEDELTA